Our library of photos, videos, music, and documents are always expanding. An easy way to add additional storage is to pick up an external hard drive like the hard drive found here (currently for $63.99 on Amazon).
External USB drives are easy to add, but once you move your files or add additional files to your new external drive that does not mean that they are backed up. If your computer's hard drive or the external drive were to fail, then all of your files would be lost. If low on space then consider upgrading to one of these solid-state drives first:
If you currently have a traditional spinning platter drive, the SSD upgrade would add a tremendous boost in speed to your computer. Then after upgrading and adding more space, it would be a good idea to get something like the Seagate 2TB USB Hard Drive and create a backup to have your computer automatically backup your files to it. That way if either one of your drives were to fail, all your files would be safe.
If you currently have enough storage/space on your computer or decide to upgrade the space of your internal drive, a great option is to consider cloud storage. I currently use Microsoft's One Drive and love it. It makes it easy to access all of my files from each of my computers and my smart phone. If my computer's hard drive ever failed I could either repair it or get a new computer, then log into my OneDrive account to download all of my files.
---
---
Another way is to get a backup drive with RAID that uses multiple drives to keep your information safe. In short, in the event of a drive failing, You can replace the failed drive without worry of losing your files. With these types of devices and network storage devices (NAS) you can keep all of your files on them to free up the space on your computer, while maintaining redundancy for your files.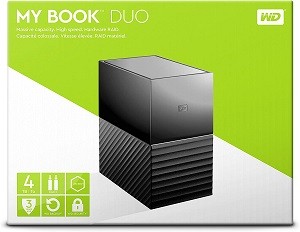 ---
The Synology is going to be faster, have more features, and easier to change the drives in the event of a failure. You'll also have the ability to upgrade to larger drives in the future when needed. Keep in mind that the Synology NAS hardware does not come with hard drives.
I recommend getting/adding only NAS rated drives, like the Seagate IronWolf 4TB NAS Hard Drive (current price on Amazon $101.99) so you long term use out of your Synology.
While it's easy and cheap to add storage, you want to make sure that you have enough file space first, and then have a backup plan in place.

Need help upgrading? Call or Text MyBizNow at 602-443-0073 or contact us here.
---